Inside The Ring - Season 2
Ryan digs into the archives of the Linking Ring magazine to find hidden gems of magic.
Register to enroll in this course.
Episode 1
An evening of weird magic, and a card stabbing spree.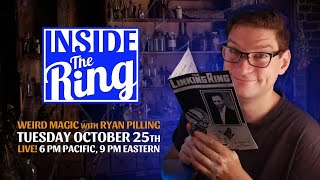 Bill Goldman's "No Move Card Stab"
Learn this impromptu card effect with a variation suggested by Ryan.
The Cursed Coasters
Ideas from Bob Neale, Phil Willmarth, and Ryan combined into one routine about cursed luck.
Making a Phantom Tube
It's craft time, as Ryan makes his second-ever Phantom Tube with dollar-store supplies.
You do not have access to this course.